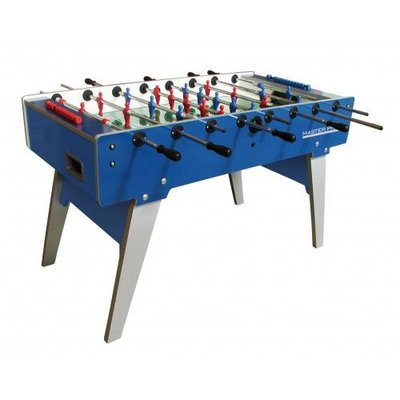 Football table Garlando Master Pro Indoor with solid rods / collapsible
The Garlando Master Pro INDOOR is a perfect table for intensive indoor use and is also FOLDABLE. This table has a weight of 70 kg. The folding legs ensure that this table is very easy to store in a small space. The table has a wall thickness of 20 mm and
Football table Garlando Master Pro Indoor with solid rods / collapsible
Article code: 20207
The Garlando Master Pro INDOOR is a perfect table for intensive indoor use and is also FOLDABLE. This table has a weight of 70 kg. The folding legs ensure that this table is very easy to store in a small space. The table has a wall thickness of 20 mm and
More info
The specialist in pool, caram and snookerbiljards
Gratis verzending vanaf €125,-
Kom langs in onze fysieke winkel. In Almere
Wij scoren een

9,2

uit

756

beoordelingen
Brand: Garlando tafelvoetbal
Article code: 20207
Availability: In stock
Delivery time:
The Garlando Master Pro INDOOR is a perfect table for intensive indoor use and is also FOLDABLE. This table has a weight of 70 kg. The folding legs ensure that this table is very easy to store in a small space. The table has a wall thickness of 20 mm and is executed in blue with a logo in silver. The legs are also in a brilliant silver color. The rods have a diameter of 16 mm and are made with unbreakable red and blue dolls. The playing field is made of green laminate with white lines. Fast and simple ball return on the short sides. This table comes standard with 10 white balls.
TECHNICAL SPECIFICATIONS;
Dimensions without rods lxwxh; 143x76x88 cm
Weight; 70 kg
Color cabinet; Blue
Rods; 16 mm with molded dolls red / blue (indestructible)
Playing field; Laminate flooring
Use; Indoor
Wall thickness cabinet; 20 mm
Ball bearings; Yes
To belong; 10x white ball