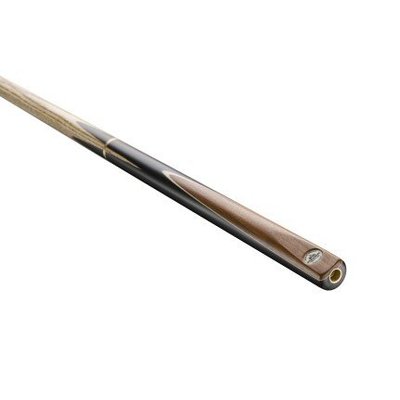 Snooker cue Peradon Carlise
Carlisle 3/4 Jointed Cue This full-size, 58 inch, ¾ connected cue is manufactured by Peradon in England of the highest class, kiln dried, North American Ash and split with Ebonex. Ebonex was developed by Peradon to be the perfect stiffness to play and to
Snooker cue Peradon Carlise
Article code: carlile 3/4
Carlisle 3/4 Jointed Cue This full-size, 58 inch, ¾ connected cue is manufactured by Peradon in England of the highest class, kiln dried, North American Ash and split with Ebonex. Ebonex was developed by Peradon to be the perfect stiffness to play and to
More info
The specialist in pool, caram and snookerbiljards
Gratis verzending vanaf €125,-
Kom langs in onze fysieke winkel. In Almere
Wij scoren een

9,2

uit

756

beoordelingen
Brand: Peradon
Article code: carlile 3/4
Availability: In stock
Delivery time:

7-14 days
Carlisle 3/4 Jointed Cue
This full-size, 58 inch, ¾ connected cue is manufactured by Peradon in England of the highest class, kiln-dried, North American Ash and split with Ebonex. Ebonex was developed by Peradon to be the perfect stiffness to play and to be more consistent in density than any traditional wooden flask to create superior playing characteristics.
Manufacture and specifications
The axis is carefully selected for strength and straightness before the Ebonex composition is split by hand to the cue and the cue is formed to produce the distinctive four round dot pattern of a hand-split cue.

A Bubinga front and Sycamore veneer are then split on the ends of the bale to further improve the appearance.

The guideline is then turned to the final tapered finish before the numerous sanding and finishing processes are performed to achieve a 'smooth' finish.

To prevent joint problems, the two parts of the 'quick action' connection are each accurately rotated from a single piece of solid brass and mounted exactly 14 "from the end of the rod to give the shaft length of 44".

The flask is finished with a Peradon Carlisle nameplate and a 'quick action' head end connection to accept the optional extensions in the 'related products' section of this page.

Extensions can be made in the ¾ connection in the cue or in the connection of the end

This cue has a solid copper ring and an Elkmaster point of 9 ½ to 10 mm.


| | |
| --- | --- |
| Cue Length | 58 "(147.5 cm) in full size |
| Shaft length | 44 "(112 cm) |
| Butt Length | 14 "(35.5 cm) - plus 1" (2.5 cm) for the excellent male connection |
| Tip | 9 ½ to 10 mm Elkmaster |
| shaft | Selected oven dried North American Ash * |
| target | Hand split 'Ebonex' composition |
| Butt decoration | Large Bubinga front glass with plane veneer |
| joint | Solid brass, 'Quick Action' 14 "from end |
| Butt End joint | Yes, fast action |
| Weight | Medium 16 ½oz to 17 ½oz or heavy 17 ½oz to 19oz |