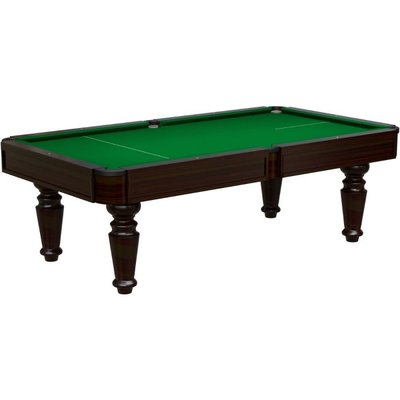 Buffalo Popular Classico pool table 7ft mahogany
About the Monaco 7ft pool table The Buffalo Monaco pool table is a slender pool table with ball legs, the mahogany color enhances the classic look of this pool table. Due to the high legs and the thin cabinet, the Monaco pool table can also be used very w
Buffalo Popular Classico pool table 7ft mahogany
Article code: 9310067
Delivery time:
You will be notified about delivery
About the Monaco 7ft pool table The Buffalo Monaco pool table is a slender pool table with ball legs, the mahogany color enhances the classic look of this pool table. Due to the high legs and the thin cabinet, the Monaco pool table can also be used very w
More info
Brand: BUFFALO
Article code: 9310067
Availability: In stock
Delivery time:

You will be notified about delivery
Our accessory packages click here
About the Popular Classico 7ft pool table
The Popular Classico pool table is a compact pool table with a beautiful rounded shape and classic legs. The pool table fits perfectly in a classic interior and is a real eye-catcher in a modern setting. Especially if you opt for a striking color cloth that contrasts nicely with the mahogany wood of the pool table. Complete the classic Buffalo Popular Classico pool table with the separately available Popular Classico dining tops and you have a multifunctional piece of furniture, a beautiful dining table, work table or conference table and a great pool table! The playing field of the Popular Classico 7 ft pool table rests on a steel frame and consists of a 3-piece slate of 20 mm thick. The top frame of the Buffalo Popular pool table is made of solid wood and the legs are made of veneered MDF. The superior build quality of the Popular Classico pool table guarantees stability and an excellent playing experience. The total size of the Popular Classico 7ft pool table is 226 cm x 126 cm and the pool table has a playing field of 200 x 100 cm. The required playing space for this pool table is 500 x 400 cm.
Slate 7ft Pool Table
Model: Popular Classico
Slate: 3-piece 20 mm
Top frame material: solid wood
Legs material: veneered MDF
Color: mahogany
Table size: 226 cm x 126 cm
Size playing field: 200 cm x100 cm
Total weight: 470 kg
Required play space: 400 x 500 cm