Free shipping from € 125.00 within the Netherlands with the exception of tables.
We supply everything in the field of billiards, table football, table tennis, darts, etc.
View our products here
Order darts on our website and visit our store in Almere
Of dart, flights, shafts and dartboards.
Darts
Van den Broek Biljarts
The billiard shop for lovers of billiards, pool and carom
Are you, like us, a fan of billiards, pool and carom? Van den Broek Billiards is the specialist in ready-to-play billiards. Our billiard shop has a 320 m2 showroom and with 5500 articles we offer a very wide range. In our online assortment you will find billiard tables , billiard cues and all kinds of accessories such as suitcases and bags, chalk and cue parts. Wondering if the product is in stock? Please contact us for this!
Your store for a good billiard game
The way to a good billiard game starts with the purchase of the right cue. With us you will find a large selection of cues especially for carom billiards , pool billiard and snooker . Also with us accessories can not be missed. From beginner to professional; we have the right products for every player in our range. From triangles and ball bowls to even a dining table that you can convert into a billiards table. We have a huge amount of choice for every billiard enthusiast!
Note: In our billiard shop we do not have all 5,500 items in stock. Always check whether your item is in stock.
Quality, craftsmanship and service through years of experience
At van den Broek billiards we stand for quality, craftsmanship and service. Through our years of experience we can advise you well on the purchase of billiard items or even repair . With a lot of passion and dedication we sell everything in the field of billiards. And did you know that in addition to our activities in the billiard area, we also sell football tables, shuffleboard, table tennis tables, air hockey tables and everything in the darts area?
Sincerely,
Remco Tolsma
Shipping costs
Briefpost
€3.15
Pakketpost
vanaf €4.95
Gratis verzenden in Nederland
*Uitgezonderd tafels
Vanaf €125,00
België
vanaf 7,95 (vanaf € 125 gratis) *Uitgezonderd tafels
Pool biljarten op een cruiseschip
Door een speciaal systeem wordt het biljart tot windkracht 5 a 6 100 % waterpas gehouden. Dit wordt gebouwd door een Noors bedrijf. Wij bouwen dan het biljart daar omheen. één van de speciale klussen die wij uitvoeren.
See video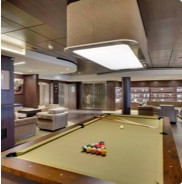 Let op: In onze biljartwinkel hebben wij niet alle 7.500 artikelen op voorraad. Informeer altijd even of uw artikel op voorraad is.