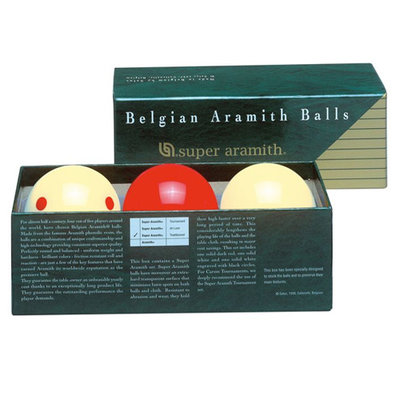 Carom balls Super Aramith demo
2 white balls and 1 light red ball 1 of the white balls has large red dots
Carom balls Super Aramith demo
Article code: 180300
Delivery time:
1-4 working days
2 white balls and 1 light red ball 1 of the white balls has large red dots
More info
The specialist in pool, caram and snookerbiljards
Free shipping from € 125 Only in the Netherlands
Kom langs in onze fysieke winkel. In Almere
Brand: ARAMITH
Article code: 180300
Availability: In stock
Delivery time:

1-4 working days
2 white balls and 1 light red ball
1 of the white balls has large red dots
Buying a set of Aramith balls is not only a wise investment, but also a smart choice.
Super quality at a reasonable price.
The Aramith balls are perfectly round and balanced. The Aramith billiard bales are uniform in weight and each billiard ball has the same hardness. Aramith billiard balls are approved for all billiard tournaments and championships. The Aramith billiard balls are the most supplied billiard ball in the world.
The Aramith-phenol billiard balls last up to 5 times longer than polyester and polymer billiard balls. Even to 400,000 hits, the Aramith billiard balls are still playing.
Because of the long lifespan, Aramith guarantees the lowest costs per billiard ball in the course of time. Also due to the extra phenolic surface, the reduction of fire stains on both billiard balls and billiard cloth is much less than other billiard balls.


Heavy duty design
Instead of a polyester number-plug design, the Aramith concept has the numbers accurately engraved in a solid core that runs all the way through the ball. As such, it is impossible for number nuclei to fall out over time. The use of phenolic resin ensures homogeneous properties in every ball section. So homogeneous that when it finally reaches its breaking point (and a minimum of 5 tons load is needed in the case of an Aramith ball), the ball will randomly break randomly, not along the line between the line and the rest of the ball, as you would expect.




Burn-spot resistant
Hitting a cue ball accelerates it from 0 to more than 30 km / h (20 MPH) in just a fraction of a second. The resulting friction temperature between ball and cloth can easily reach 250 ° C (482 ° F). That is why Aramith balls are the only ones made from real phenolic resin: their molecular structure is designed to be durable at these high temperatures, making Aramith balls much less sensitive to abrasive burn marks. They maintain their high gloss and smoothness over a much longer period of time, resulting in minimal wear of ball and tablecloths.




High impact resistance
Because striking the balls is the essence of the billiard game, impact resistance is a critical factor. Aramith's phenolic heat-curing process fully stabilizes the stresses of the material. It produces a high-density glazed surface that offers maximum shock resistance. Tests have shown that Aramith phenol balls can withstand more than 50 times more impact than other polymer or polyester balls. They are also scratch-resistant twice. As a result, when used intensively, even on less maintained tables, Aramith balls are clearly much less easily damaged than others by pocket fixings, table mechanisms or cue sticks ...