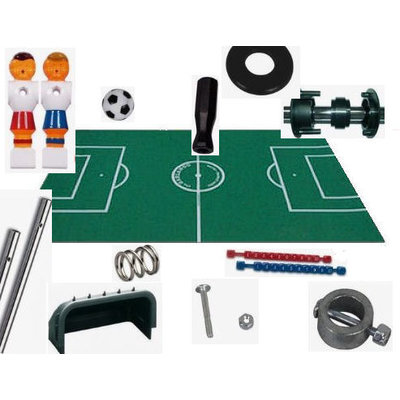 Complete set of home-made football table
Build a football table yourself. Here you can buy a complete set with all necessary parts. Only the cupboard and legs will have to be built. Useful sizes: width between 68 and 70 cm length 121 cm Distance between bars between 14 and 15 cm Distance between
Complete set of home-made football table
Article code: 622spare3
Build a football table yourself. Here you can buy a complete set with all necessary parts. Only the cupboard and legs will have to be built. Useful sizes: width between 68 and 70 cm length 121 cm Distance between bars between 14 and 15 cm Distance between
More info
The specialist in pool, caram and snookerbiljards
Gratis verzending vanaf €125,-
Kom langs in onze fysieke winkel. In Almere
Wij scoren een

9,2

uit

756

beoordelingen
Article code: 622spare3
Availability: In stock
Build a football table yourself.
Here you can buy a complete set with all necessary parts. Only the cupboard and legs will have to be built.
Hereby handy sizes:
width between 68 and 70 cm
length 121 cm
Distance between bars between 14 and 15 cm
Distance between playing field and bottom of the doll 1.2 cm
Table height between 87 and 90 cm
Feel free to come by if you want to know more sizes. Always ready for you.
Required components:
8 rods solid or hollow diameter 16 mm *
2 x 11 dolls
4 goalkeeper stops
26 bolts and nuts
16 feathers
16 fiber rings
8 handles
8 end cap rod
16 plain bearings
2 throw-in scales
2 counters
4 corners
cardboard playing field *
2 goals
Rods and playing field are adjustable, see price.